Update on new Food Store and Home Centre in Melville
Actions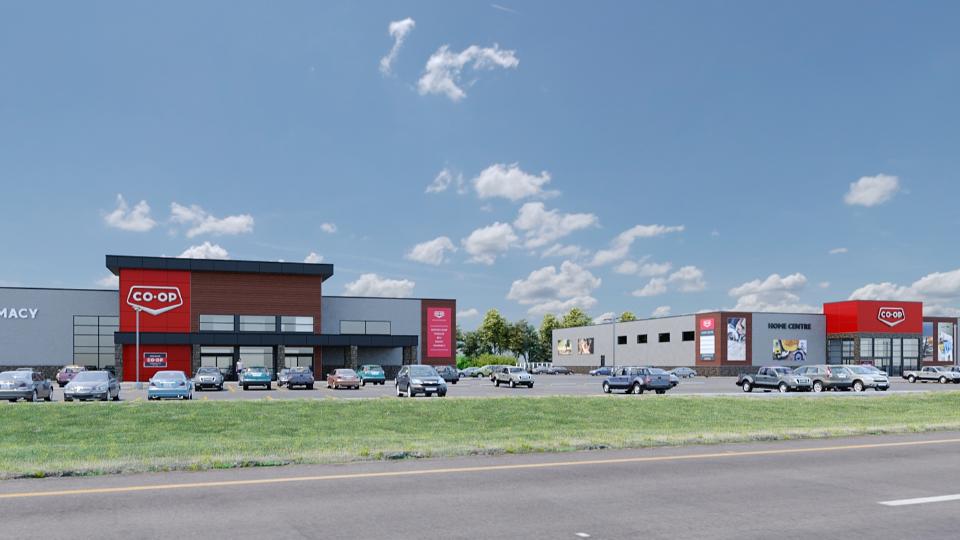 Update on new Food Store and Home Centre in Melville
April 27, 2020
Prairie Co-op would like to announce that construction work on the development of a new Food Store and Home Centre in Melville is scheduled to begin in May 2020. Construction of the new buildings will be on eight acres of land along Highway 10 in the hospitality corridor, which was purchased from the City of Melville and Canalta Real Estate Services.
The development will see a 25,000 square foot Food Store, and 20,000 square feet of Home Centre Buildings constructed on the property.

Co-operatives have been an important fixture in the Melville area since 1940. Traditions that started decades ago remain the cornerstone of what Prairie Co-op is today: a promise to stay local; a commitment to community; and a business model that shares profits with its members. Today, Prairie Co-op serves more than 12,000 members. Prairie Co-op is dedicated to its members and communities by providing quality products and service in a sustainable manner.

Prairie Co-op will be working with CCR Construction, a Regina-based company which specializes in Construction Management, Design-Build, and General Contracting. CCR was founded in 1998 as a specialized concrete construction and rehabilitation company, and over the years has grown into an elite General Contractor in Saskatchewan. CCR holds a lot of the same ideologies as Prairie Co-op: CCR is a grass-roots, Saskatchewan-based company that believes in supporting the community that supports them. In that spirit of giving back to the community, they support local organizations and initiatives that impact the lives of both their staff and clients through volunteerism and community involvement.

"We are really excited about the project starting: both working with a construction company that holds the same ideals that we believe in, and what this new retail opportunity means for both Prairie Co-op and our customers," said Chris Paradis, General Manager of Prairie Co-op. "With these new buildings, we are able to expand our product lines in both the Food Store and the Home Centre. The Food Store will increase in size by 10,000 square feet. This will see an increase in what we can offer in the produce, bakery/deli, dry grocery, and meat departments to better serve our customers. The Home Centre will have 13,000 square feet of retail sales space. This will essentially triple the floor space we have currently, with the ability to expand our product lines we display -- we will be able to show the latest trends in home renovation and design. With these two new buildings, Prairie Co-op is committed to continue to invest in the communities in which we operate."
CCR is excited to work with Prairie Co-op on this project, and help shape the retail landscape of Melville.

Construction will commence in May 2020, and is expected to be completed in 2021. Total projected cost of the development is $17.5 million, which includes the acquisition of land, buildings and construction, as well as the purchase of equipment for both locations.